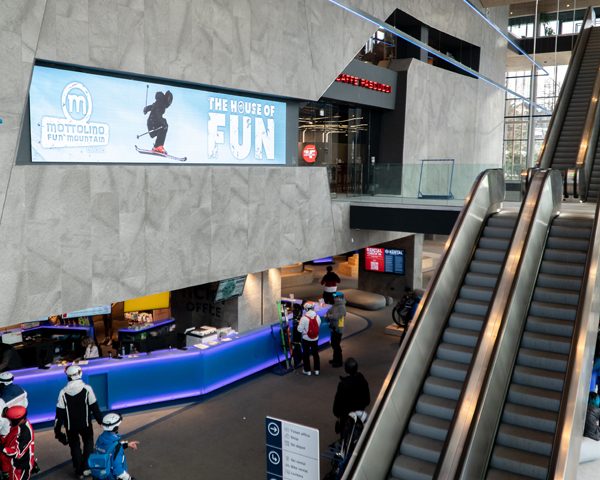 ALL THE BENEFITS OF OUR RENTAL SHOP
Strategic location: our rental shop is inside Mottolino's headquarters, in a strategic location. Once you've rented everything you need, just go up the escalator or the lift to the cable car station. And the ticket office, store and Mottolino's partner ski and snowboard school desks are right next door.
Ski and snowboard storage area: our rental shop also has a number of 2 or 4 ski heated storage areas, a convenient place to leave your equipment. These make travelling around the town streets easier as you won't need to carry your skis, snowboard and everything else with you. And on top of this, if you check-in online for your ski storage rental we'll put all your equipment in it before you arrive.
Open-plan workshop: our ski technicians are not hidden away from view. They work right here in our open plan workshop! This means that all the various ski and snowboard preparation steps are visible to everyone. (describe phases) Our staff's constant hard work enables us to offer you equipment in the best possible condition at all times.
Courtesy ski service: this service means you are never without your skis or snowboard even when your equipment is unusable. If maintenance work takes time Mottolino will make a pair of skis or snowboard available free of charge so you can carry on having fun while our ski technicians get on with their work.
Not just Mottolino: our rental shop services are not exclusive to Mottolino clients. If you have your own skis or snowboard come to us in any case with any problems. Over the years we have become experts in sport equipment maintenance and repairs on the strength of highly qualified staff.
BOOK ONLINE ! A 18% DISCOUNT FOR YOU !