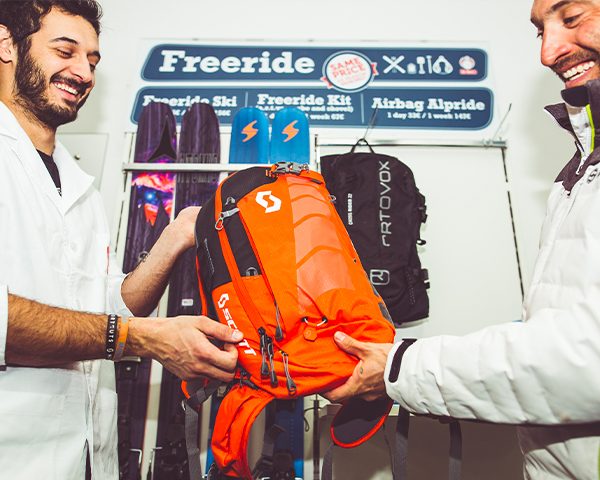 FREERIDE IN LIVIGNO
Free-ride in Livigno means untouched valleys and slopes immersed in ethereal and quiet nature. Unique emotions for skiers who are used to groomed ski runs and want to be at one with the mountain.
Skiing on a groomed run helps you learn a style and fine-tune your technique. Free-riding is different. It's looking at nature with different eyes. It's freedom. It's creativity.
It's experimentation and discovery, emotion in its finest form.
To free-ride in Livigno under the safest conditions, you must know the territory and the weather and snow conditions. That's why our guides are there for you.
Book your free-riding experience at Mottolino and make sure to be equipped with the safety kit, which includes an avalanche transceiver, a shovel and a probe. Rent it at Dr Rent, where you'll also find the Scott's avalanche airbag backpacks, featuring Alpride Technology, which is one of the fastest inflation systems, to increase your safety off-piste.
FREERIDE ETIQUETTE:
1. Always have the self-rescue kit with you
Avalanche transceiver, shovel and probe are essential tools and can make the difference in case of emergency. They must be in your backpack, which you'll always have with you. . 
2. Learn how to use your self-rescue kit
If you know how to use the safety kit properly, you'll increase the confidence of your fellow adventurers. Practice often and try to improve your speed every time. If you do it with a friend and bet a pizza on it, winning will have an even better taste!
 
3. Never go out alone, always be with an expert guide
Never go off-piste alone. It's not a matter of expertise. If you have an accident, even just a small injury, there would be nobody to assist you or call for help. Always rely on expert mountain guides. Always rely on expert mountain guides. They will give you more confidence, especially if you don't know the area, making you enjoy the best experience ever. Mountain guides know where to find the best snow and the best itineraries to make your experience fun with the right dose of effort. Moreover, they know everything about the area and can tell you interesting anecdotes and stories. You can find guides for skiers HERE and guides for snowboarders HERE.
4. Always have suitable skis and snowboards
If you don't have equipment, there's no need to renounce all the fun.
Book it online with a 20% discount and collect it at Dr Rent's, at the departure point of the Mottolino cableway. With the help of the guide and our team, you can choose the best skis or snowboard for you. If you still don't have the avalanche transceiver, shovel and probe, don't worry. At Dr Rent's , you'll find the backpacks containing the safety kit.
 
5. A life-saving law: having the safety equipment always with you is mandatory
Having the self-rescue kit in your backpack is required by law. You could even be fined if inspectors find you without it. Book yours
HERE