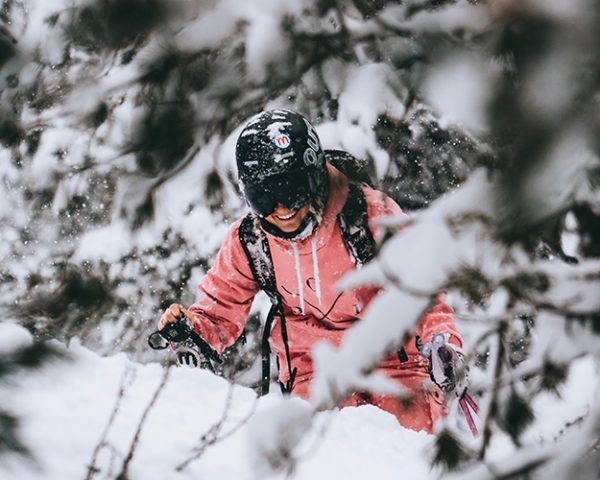 FREERIDE IN LIVIGNO
In Livigno freeriding means starting out on an exploration of the more intimate and evocative side of our mountains: pristine snow, virgin trails and breathtaking descents. Off-piste skiing enables you to express your creativity to the full, experiencing a feeling of freedom which only close contact with nature can give you.
But freeriding safely requires great care and attention. As well as excellent mastery of the basic techniques and the right equipment you must also take an airbag backpack with you if you set out into fresh snow including a safety kit made up of avalanche transceiver, shovel and probe. And don't forget your helmet! But that's not all. You also need an excellent familiarity with the Livigno area, its weather conditions and snow conditions at the time of your trip. And being an expert skier or snowboarder makes no difference: freeriding must not be done alone and it is best if you have an Alpine Guide with you. The most banal of setbacks can be an insurmountable problem when you're in fresh snow!
What follows is freeride etiquette and what Mottolino can offer you! Remember that booking online entitles you to an 18% discount on all products.
FREERIDE ETIQUETTE:
Excellent mastery of technique:
Freeriding requires excellent base technique and good fitness. Off-piste routes are neither groomed nor even and this means that freeriders must be capable of managing various terrain conditions. The risk of accidents is generally higher than in piste skiing.
Suitable skis and snowboards:
Freeriding ski and snowboard equipment is very different from downhill skiing's. Freeride skis and boards are wider to keep you on top of fresh snow and they are generally longer, too, for greater balance. Additionally freeride skis have a very different profile. Their tips and tails tend to be suspended and the contact point with the snow is near the centre of the skis. For all these reasons you are best advised to use the right equipment for off-piste skiing. If you don't have the right type of skis or board have a look at Mottolino's online shop.
Freeride kit, airbag and helmet:
In off-piste skiing you are required to carry a kit made up of avalanche transceiver, shovel and probe. A transceiver transmits and receives signals which enable people trapped under an avalanche to be found. The probe is stuck into the snow to locate a person's exact position and the shovel is used to dig people out. A further tool is an airbag backpack which keeps you on top of an avalanche and also protects your back. Remember that all this is a legal requirement. And don't forget to wear a helmet, of fundamental importance when you fall. Check out our Freeride kits, airbags and helmets:
Use an Alpine Guide:
Never go off-piste alone. It's not a matter of expertise. For lone freeriders even the most trivial setback can be a huge problem. There's no-one to help out or call the emergency services for you.
You are always best advised to opt for an Alpine Guide. Their in-depth knowledge of the sport, together with their familiarity with the area and snow conditions are a guarantee of a safe trip.