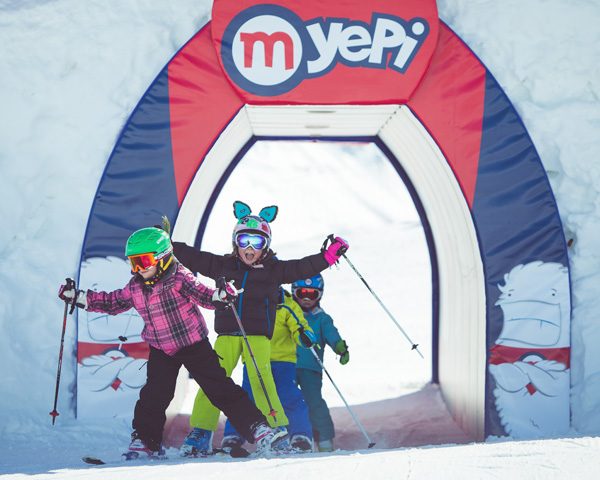 YEPI
Discover the route and facilities in the Yepi area dedicated to children
in the Mottolino ski area of Livigno. Learning to ski has never been so fun!
Since winter 2019 Yepi has found a home at Mottolino! In addition to the ski lift,
he also brought with him an extremely fun route to do together with mum and dad!
From the arrival of the Yepi chairlift, go down to the arch that opens the path
and immediately choose whether to face the fun box or the musical tunnel.
From there continue through the fantastic punchballs and then off to parabolics
and small waves of artificial snow that will take you to the natural half pipe.
You will want to try it and try it again many times, but you will never get bored!
BUT WHO IS THE YEPI?
The hunter Bepin de la Pipa, gone hunting from the Capre bridge up the Torto stream, saw a beautiful deer tied to a tree and untied it, leaving it free instead of killing it.
He then went to the fair in Tirano and not having sold the cattle, he was approached by a beautiful woman unknown to him. She gave Bepin the money corresponding to the cattle, leaving both the money and the animals to the man from the mountains.
She also recommended the hunter to always be good with the Cerva del Bosco and to kill, instead, the fawn Fox of the Mine. The mountaineer understood that the transformation of the maiden into a doe had been a spell, one of the many accomplished by a sorcerer who was able to change the nature of the most beautiful girls and to bind them in deserted and fearful places.
Several seasons passed and one afternoon, while he was mowing the grass, Bepin de la Pipa saw the fox. He struck her with a terrible sweep, so that the beast, very battered in its legs, was forced to flee and escaped up the valley. On the evening of that same day, some medicine was rushed to the village to a sorcerer, wounded in the legs as had happened to the fox hit by Bepin that same day.
Of course the guy was "el striòn" who had incarnated in that animal; he was none other than the sorcerer who had hurt that girl, thought Bepin. With his death, the valley no longer spoke of spells, of hinds tied or of snarling foxes.
It no longer happened that some of the women of the place had clothing disappear as well as bed sheets and that they could be seen, the next day, white on the surrounding peaks.