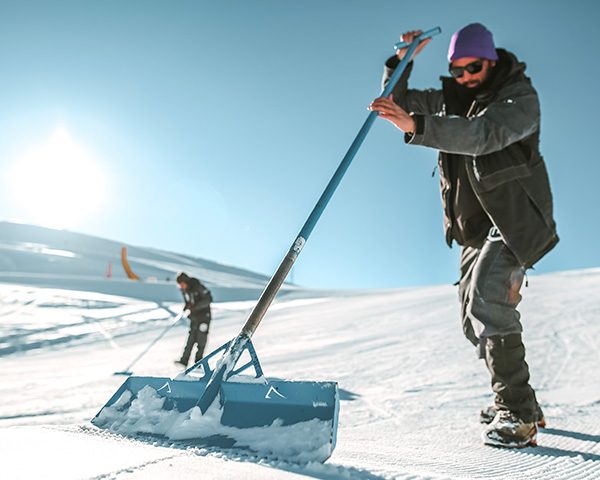 SNOWPARK SHAPERS

Your Mottolino Snowpark fun is ensured by our enthusiastic shapers, a team of professionals who work hard every day to plan and maintain the park's jumps and structures. The planning stage begins in summer when the team study the morphology of the area and then work on building the structures takes place in autumn. During the winter, on the other hand, maintenance is required to ensure they remain at their best.
It sometimes happens that the shapers are still hard at work late in the evening or start work at dawn when the temperatures are close to -20°C!
One of the distinguishing features of the Mottolino Snowpark is that all its jumps are shaped by hand: this is time consuming and requires dedication but the end result is well worth it as it guarantees you a one-of-a-kind experience on all lines!
As technical staff the shapers are also responsible for ensuring the Snowpark's rules are obeyed. In addition to ensuring the park is safe they are also on hand to answer any questions you may have and help you out if you hurt yourself.
HOW IS THE PARK MADE?
Curious to know how our Snowpark is made? Check out all the steps involved!
The first step is studying the morphology of the terrain. This is necessary to identify the best slopes to build jumps on as well as any artificial snow equipment extensions enabling the right amount of snow to be brought in.
In autumn the structures required to optimise the Snowpark building process are set up: this is a very important step because it means work can begin as soon as it snows. It is at this stage that the various park lines are planned as well.
When the winter season begins each individual shaper has a very specific task: some drive the snowcat, others get the jump ramps ready and other follow the brand initiatives, which are fundamentally important to ensure our partners visibility.
Not bad is it?