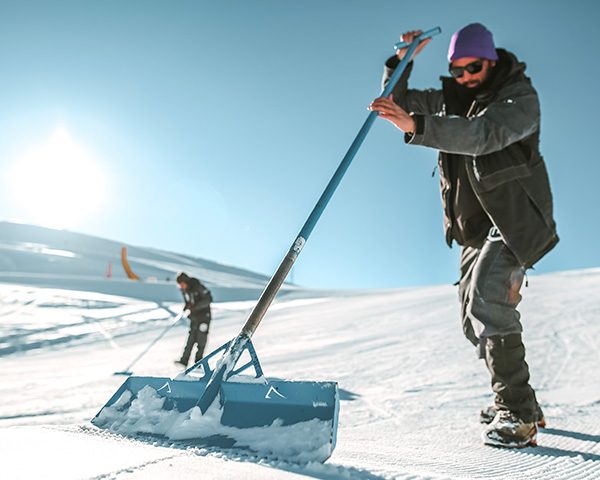 SNOWPARK SHAPERS

Mottolino shapers are a team of snow enthusiasts.


Behind the ski jumps and many facilities of our snowpark, there is the daily effort of a team of shapers, supported by snowmobile drivers and snowmakers to ensure the best riding conditions.
It may seem a simple and fun job for many aspects, but the truth is that it hides many facets that make it tough yet rewarding.
HOW IS THE PARK BUILT?
To have an overall picture of the activities involved in the construction of the park, we need to look at the complexity of the project. First of all, we need to consider the morphology of the terrain to identify the best slopes where to build ski jumps and integrate a snow-making line to always have the amount of snow required to create the facility.

This is a job to be carried out during the summer. Riders are essential in this stage, as well as the opinions of those who will work here every day, from shapers to the snowmobile drivers.
Autumn is when we prepare the required infrastructures to optimise the construction process and plan the opening season, establishing priorities. Based on this deadline, we start working upon the first snowfalls to optimise resources and energy.
When the season gets going, each shaper has a precise role and tasks to carry out.
There are those who drive the snowmobile, those who handle large amounts of snow, those who prepare the jump ramps, those who take care of all things branding to give visibility to our partners, and those who are in charge of the Big Air Landing, monitoring access and its proper use.
It may happen that the Mottolino shaper team is still working at night or starts working at dawn,
especially when openings or events are approaching. This is when temperatures can drop down to -20 °C making the job even tougher, but they know that they will be rewarded with the satisfaction and gratitude of all the athletes that will use our facilities.