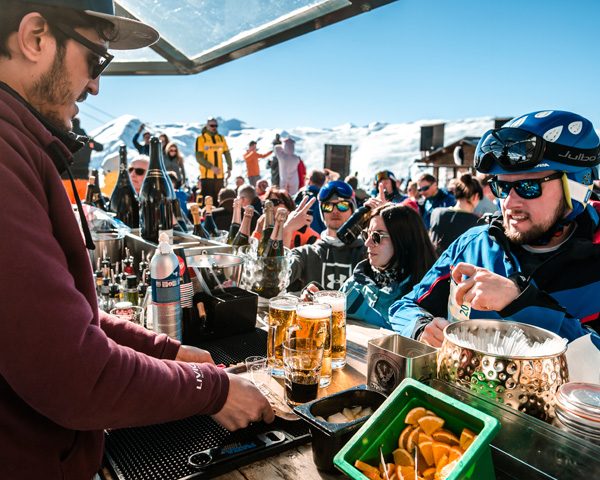 MOUNTAIN HUTS

Our mountain huts are here to offer you a Food&Fun experience at an altitude of over 2000 metres! Varied and tasty food options give you the choice between a quick sandwich, a delicious self-service meal, a tasty pizza or a classic pasta meal.
M'Eating Point Mountain Hut and Camanel di Planon work to the same opening hours as the ski lifts which means that you can get a coffee or a sandwich and use the toilets at any time of day and a full meal, including pizzas, at lunch time.
Our restaurants are ski in - ski out: just take off your skis and go in. There's no need to take your ski boots off! You can sit inside if you like or take advantage of one of our panoramic outdoor terraces. Mottolino's Food&Fun is not just for skiers and snowboarders: come on foot too, buying a return trip at one of our cable car ticket offices. And remember that you don't need technical clothing: a pair of comfortable shoes is more than enough!
M'EATING POINT 

M'Eating Point Mountain Hut is our 2400-metre-high eating place! It is located at the top of the Mottolino cable car and the Yepi Lift and easy to get to both on skis and on foot from Livigno town centre or Passo Eira.
Food:
Café: for a tasty breakfast, a break or a delicious snack. Charge your batteries in the morning with a cappuccino, croissant and freshly squeezed juice. And what about a well deserved snack before your last descent: that hot chocolate has to be with cream of course!
Sandwiches: a break at any time of day. Is your preference for a bread roll? A focaccia? A piadina? There's something for everyone here. An example is our Teola focaccia filled with bresaola, fresh Alpine cheese and rocket or our Valfin baguette filled with cured ham, salad, fresh tomatoes and Edamer cheese.
Self-service restaurant: choose from a wide range of starters, pasta, risottos or main courses and enjoy a delicious lunch break. All the Italian classics are available here with a special focus on the Valtellina culinary tradition: pizzoccheri, venison salmì, Taragna polenta .... Enjoy your meal!
Luciano's Alpine Pizza&Poke: new for the 2022/23 season. Luciano's Alpine is a high altitude place to try out delicious pizzas and tasty poke bowls: try your pizza with smoked Scamorza, Grana Padana and sheep's milk cheeses, honey and truffle oil and leave a bit of room for a delicious tiramisu!
Fun:
Panoramic terrace: nothing could be better than enjoying the sun on our panoramic outdoor terrace. From here you can admire the Mottolino Ski Area as you tuck into lunch or a snack or just relax before getting back onto the slopes.
Kindergarten: on the top floor of the hut we have set up a play area for little ones only, with lots of fun games. Entry is free for children over 3 and a babysitter is at hand free of charge to look after your children.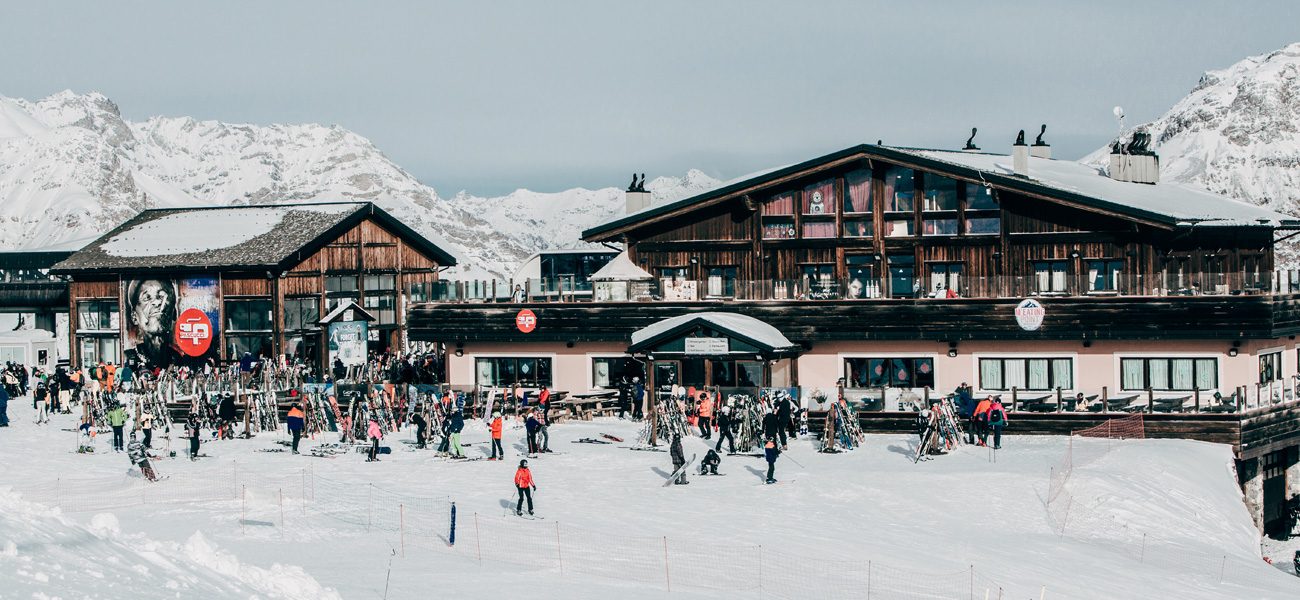 CAMANEL DI PLANON 

The Camanel di Planon mountain hut is the jewel in the whole Livigno Ski Area's crown. It is located at the top of the Teola Pianoni Bassi chairlift and is easy to get to on skis from the Monte Sponda, Valfin and Planon ski lifts too. If you're coming on foot just make your way to the Teola residential area and take the ski lift up.
Food:
Café: start off the day with a coffee accompanied by a delicious croissant. Is yours with jam? Cream? Or chocolate? Camanel's café is inside the hut or outside it, a great place for a well-deserved drink with friends.
Food corner: a quick and tasty lunch break. Try our rye ciabatta filled with bresaola, mushrooms and fresh Alpine cheese or our whole wheat ciabatta filled with Edamer cheese, aubergines and courgettes. And don't miss out on a chance to order our wonderful chicken and potatoes!
Pasta House: the ideal restaurant for that queen of Italian food. Traditional Valtellina pizzoccheri, tagliatelle, taglioni and paccheri pasta as well as Spaghettone Camanel in a sauce made of sautéed Cantabrian anchovies, capers, sun dried tomatoes and crunchy buckwheat.
Fun:
Freak'n Tonic Show: every day at lunch time, don't miss out on this Mottolino music and dance group's breathtaking show. Top level dance choreographies for unrivalled fun in an ultra-lively atmosphere!
DJ set: Camanel's afternoons are packed with music, dance and a great deal of fun. Have a beer with friends, drink a toast to your days on the snow, warm yourself up with a bombardino hot liqueur, relax in the sun and enjoy our inimitable DJ set.
High altitude dinner: on Thursday evenings Mottolino offers the chance for a one-of-a-kind experience at Camanel with a dinner of Italian classics, music, singing and an evocative return journey on a snowcat.