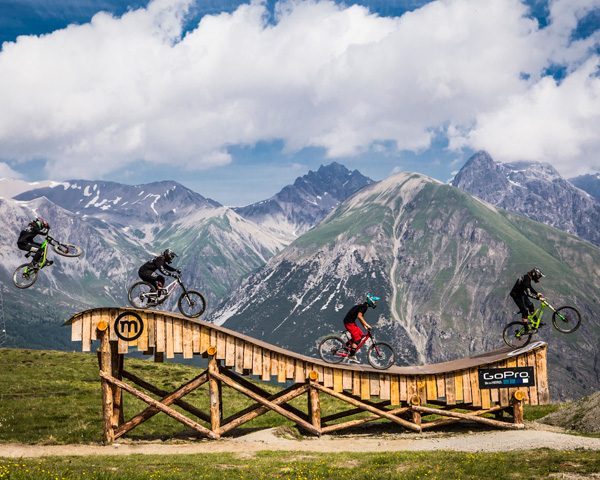 SLOPESTYLE LINE
The Slopestyle line, entirely dedicated to the pro rider, is a line of structures of earth and wood, among which you can find
a couple of ramps of the Nine Knights' castle, useful for perfectioning you riding level. Drop, wave, hip and dirt jump are the first prime features in this area of the Livigno bike park. Careful! The riding level required to face go through these structures,
is very high: as well as being an expert biker, you need to be capable of understanding if the weather conditions, especially the wind, permit you to face these structures. If you are an advanced rider and you want to try these jumps, entrust the community of the Mottolino Bike Park and let the more expert guys guide you.
DROP AREA
The drop area of the Mottolino bike park is the first area of the slopestyle line, composed by jumps of medium-high level,
to face with knowledge of your own abilities and weather conditions.
JUMP AREA
The Mottolino bike park's Jump area is composed of jumps in sequence, constructed of beaten earth, it is situated in the Passo d'Eira zone and you can reach it through the Take It Easy or the Flow Line paths. 
The jumps are divided in 3 different lines which correspond to 3 different difficulties.
The easier line of jumps is also used by the instructors to teach the beginners simple techniques which can be used to face the natural conformity of the ground in all the paths with more confidence. Once understood, these abilities will allow your riding experience to be more fluid and fun. In the other lines, instead, the riders leave tricks and jumps that can be done in the more difficult and challenging routes,  also in this area is recommended to learn how to understand the weather conditions, wind in particular, which will allow you to approach the jumps in maximum security.
NORTH SHORE AREA 
The north shore area is a zone of the Mottolino bike park made inside the woods.
It's composed by wooden footbridges of various kinds: step up, step down, snails, parabolic and much more. Some are off limit for the beginners, others are rather simple and they complete you riding experience. All the routes bring you to this area, which is found in the woods under the gondola. Once you're there, you will be able to choose whether you want to try some obstacles or if you prefer to continue along the path which will conduct you to the end of the bike park.
INFLATABLE
The Mottolino bike park's inflatable is the perfect structure to learn new jumps with the bike or to improve your technique! Is is situated at the starting point of the Mottolino gondola and it is accessible to anyone who owns the bikepass. Your path towards the bigger jumps in the bike park begins here
Flow Line and North Shore Area