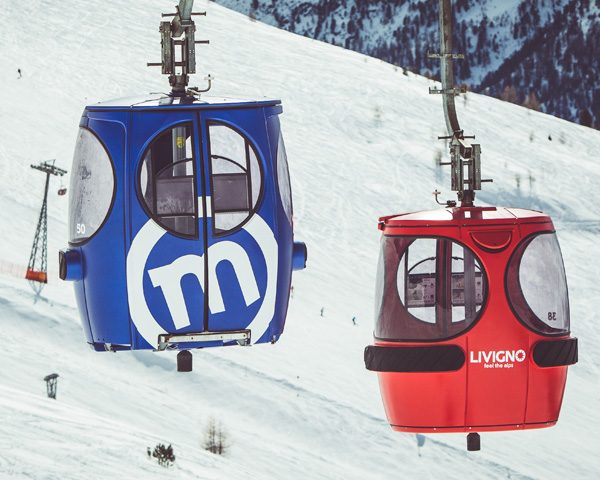 GETTING UP HIGH ON FOOT

At Mottolino's Ski Area there are unforgettable experiences for people who don't ski or snowboard as well. Put on some comfortable shoes and get up to one of our mountain huts at over 2000 metres for a high-altitude lunch. And there's much more than that for non-skiers in Mottolino! There are three ski lifts to get you up high and they leave from three different parts of the town. They all have their own ticket offices selling return tickets for your day out. The Mottolino cable car, a short walk from Livigno town centre, takes you to M'Eating Point, at an altitude of 2400 metres. You can also get to it from Passo Eira on the Yepi Lift. From the Teola residential area, on the other hand, the Teola Pianoni Bassi chair lift takes you to Camanel di Planon. If you are afraid of heights we recommend the cable car because you get to put your feet down on it whilst the chair lifts might make you more uneasy. Where food is concerned, M'Eating Point has a sandwich bar, pizzeria and self-service restaurant offering a wide range of starters, pasta and rice dishes and mains. Camanel di Planon, on the other hand, offers sandwiches and hot dishes and there is also its Pasta House, a restaurant focusing on this queen of Italian food.
YOU'RE AT THE MOUNTAIN HUT. WHAT NEXT?

Our mountain huts are much more than just places to eat and drink at!
M'Eating Point has a large panoramic terrace ideal for sunbathing. And the hut's top floor has been turned over entirely to children, from three upwards, with a free babysitting service.
Your day at Camanel di Planon is music and fun inspired! The Freak'n'Tonic music and dance group performs its show every day at lunch time followed by DJ set for the rest of the afternoon. And don't forget about Thursday's high-altitude dinner, a wonderful evening with a breathtaking return journey on board a snowcat!
Remember that there are no high altitude itineraries for hiking, not even for the return journey to the valley. You will have to take the ski lifts down again. You cannot walk along the ski slopes as pedestrians are not allowed onto these!