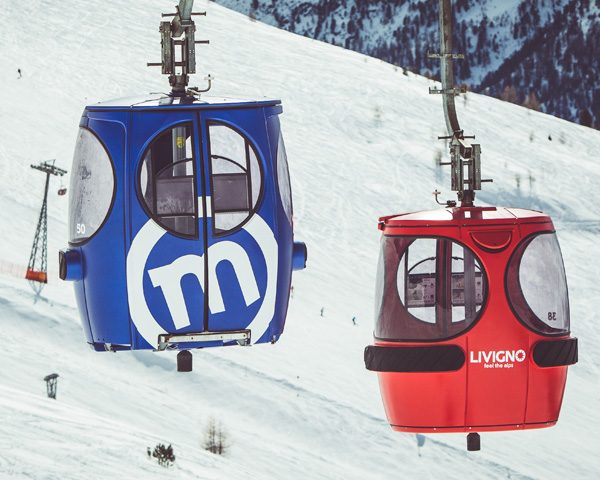 IN ALTITUDE BY FEET

In Mottolino you can reach high altitudes even without skis! There are three lifts that take you from the main roads of the town of Livigno to over 2500 m to admire our beautiful valley from above and enjoy an excellent lunch in one of our shelters.
What ski lifts can I use?
From the town center you can use the Mottolino gondola, the white, red and blue eggs
that you can see on our slope, while if you are at the Eira pass, you can use the Yepi chairlift. From the residential area of Teola, take the Teola Pianoni Bassi chairlift to the Camanel di Planon restaurant.
Round-trip tickets can be purchased at the ticket offices at the start of each of these facilities.
ACTIVITIES

Are there activities for pedestrians at high altitudes?
The culinary experience is at the base of the extra ski offer: consult the pages of the M'Eating Point and Camanel
di Planon refuge to find out what's in store for you. Outside the refuge M'Eating Point there is an area dedicated to inflatable chamberlains and various games, perfect for adults and children, while those who accompanied a beginner
to the school camp, can attend the lessons comfortably seated on a bench outdoor on the panoramic terrace.
There are no high-altitude walks, no walking itineraries to return to the valley and the rules of the ski slopes are rather severe: people walking along the ski slopes are not allowed.
Important tips:
If you suffer from vertigo, we suggest you use the gondola, which is a closed egg where you can keep your feet on the ground: the feeling of the chair lift may not be pleasant for you.