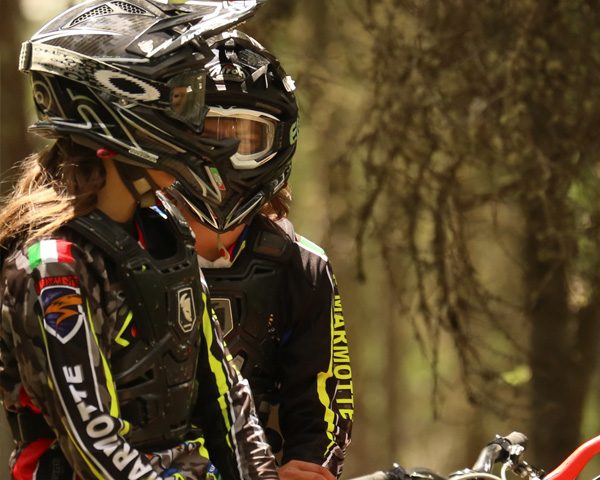 SIGNS
Each path of the Mottolino bikepark is provided with specific signs indicating both the difficulty of the track and the elements present inside it. At the entrance of the park you will also find a map showing all the paths and all areas, to be read carefully to choose the path that best suit your abilities.
The signs should be read as follows:
The color indicates the difficulty of the path, the blue one is equivalent to a basic path for beginner, the red one is for intermediate bikers and the black one for more experienced bikers.
At the beginning of each path you will find a sign with the name of the track.
Along the path you will find signs indicating the most challenging bends and sections.
We always recommend a low speed brief before tackling any path.
It is highly recommended to have a good knowledge of the basic riding techniques of mountain biking. It is recommended to make a first reconnaissance of the path at low speed to get to know the trajectory and any obstacles. It is forbidden to walk inside the bikepark.
In case of a needed break it is mandatory to leave the track free. It is mandatory to keep the minimum safety distances between you and the rider in front of you. The rain modifies the consistency of the tracks, therefore it is advisable to be more cautious in the case of wet paths.
In the event of an accident it is mandatory to stop and assist the people involved by calling the bikepark rescue immediately. It is mandatory to wear a full-face helmet and protections for elbows and lower limbs are strongly recommended.
It is mandatory to respect and observe the signals on the trails. Access to unmarked tracks and routes not included in the park mapping is absolutely prohibited. Have respect for the environment you are in, do not leave rubbish, stubs etc. on the mountain!
THE RESCUE
The Mottolino bikepark is equipped with a first aid service and it is connected to the Sondalo hospital helicopter rescue center. It is very important to always have a mobile phone with you in which it is saved the number of the emergency who must be contacted immediately in case of accident.
PRONTO SOCCORSO
FIRST AID
+39 349 22 64 736