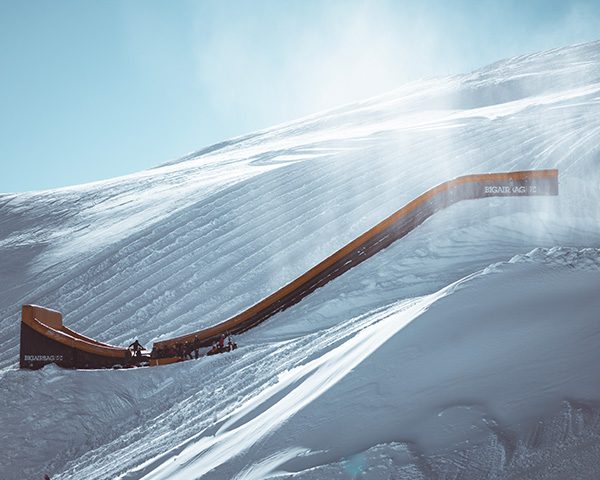 LINES, JUMPS AND STRUCTURES

PRO LINE includes 3 ski jumps (19, 22, and 17 metres) a table with 3 rails and other 3 rails shared with other lines. A set-up similar to the one of major international competitions, where you can train on a complete line, unleashing your creativity.
Other aspects our pro riders can take advantage of:
guarantee that the facilities will open at the beginning of the season: in the last few years, we have been working to have the largest lines ready for the beginning of the winter season. Besides all the work done, we have consolidated the artificial snow-making system to provide you with impressive facilities since the first snowfalls (depending on the temperatures and the weather forecast);
Daily maintenance: our shapers do their best to make the ski jumps efficient every day and make sure that the slopestyle line meets your expectations and allow you to prepare for international competitions;
A 5-month season: You can train in Mottolino from early December to late April under the best conditions. Stay tuned on this site or our social media for real-time news;
An international atmosphere: in the last few years, Mottolino has hosted the strongest teams of international snowboarders and freestylers, allowing our riders to learn from the best!
Then, there's the Big Air Landing, the mega inflatable that attracts riders from all over the world, which deserves a special mention. This structure that allows athletes to test new tricks, which can then be performed on snow once they are fine-tuned. The result is a unique training experience. Please send an email to [email protected]  for more information.