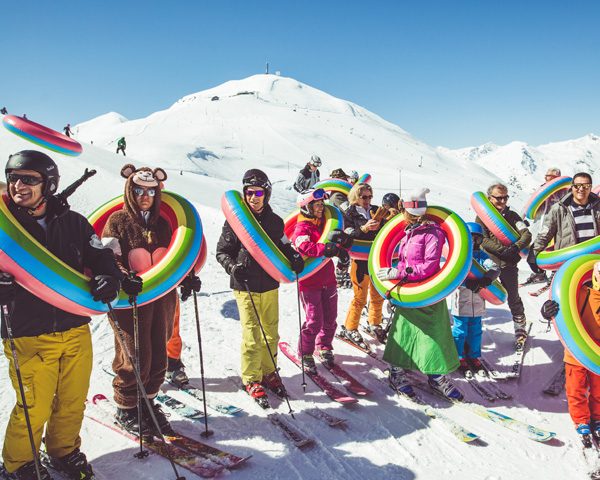 IN GROUP
Traveling in a group is an opportunity to share emotions, passions and fun.
It is choosing to be together with other people, to tell stories, to confront others.
Watch the same panorama with multiple eyes, take a descent with multiple legs,
overcome your limitations with the others.
The mountain in winter offers you a thousand opportunities to stay in the company of your friends: on the lifts, in the shelters, making experiences with broad added value that you cannot find elsewhere.
Do you have a special occasion to celebrate? Do you want to organize something unique? Trust us, we will create a tailor-made proposal for you!
HERE IS WHAT WE OFFER:
1. Are you organising a corporate event? Mottolino is the partner you need.
In many years, Mottolino has hosted corporate events of any type: team building, gatherings, special activities, you name it! We have been partners with Italian and international companies, meeting all their requirements, from ski competitions to lunches, from gala dinners to breakfast at dawn. That's why you can rely on us if you're organising a corporate event in the mountains and want to make a good impression on your clients. 
2. Private parties.
Are you thinking about a surprise party in a lodge for your loved one? Are you organising a special event for your family, friends or company? Here at Mottolino, we can help you with whatever you need! Skis, lodges, snowpark or après skis: you choose!

3. Stag and hen parties.
Stag and hen parties: an opportunity for brides- and grooms-to-be to celebrate with their closest friends. A group of people with different needs but with the same goal: having fun. Here at Mottolino, you can choose among different options depending on your budget and what you're up for: an aperitivo at high altitude, a party during the après ski, a ride on the snowmobile or lunch at the lodge.
Contact Federico and discover all our services
Federico Patriarca
mail: [email protected]
tel: +39 0342 1856226