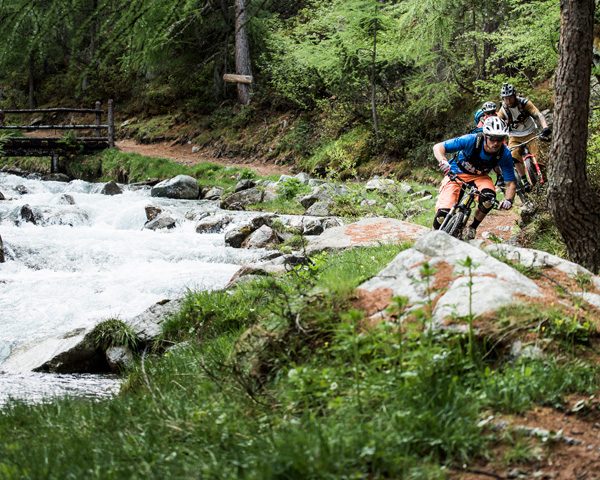 MTB TOURS AVAILABLE WITH ENDURO BIKE OR E-BIKE
In collaboration with Bike Livigno for info and reservations +39 331 33 22 023
MONDAY:  

Monte Parè – Val Tort – Valle delle Mine 

Difficulty S1/S2  —  

Stelvio – Livigno 

Difficulty S2/S3
TUESDAY:  

Bernina – Angeli Custodi 

Difficulty S2/S3 —  

Lago del Monte

 Difficulty S2/S3
WEDNESDAY:  

Val Vezzola 

Difficulty S1/S2 —  

Stelvio Goldsee + Bim Bam 

Difficulty S2/S3
THURSDAY:  

Val Viola 

Difficulty S1/S2 —  

Piz Umbrail 

–

 Difficulty S2/S3
FRIDAY:  

Passo del Forno – Val del Gallo

 Difficulty S2 —  

Val Mustair Enduro Tour

 Difficulty S2/S3
SATURDAY:  

Bernina – Angeli Custodi

 Difficulty —  

Lago Nero 

–

 Difficulty S2/S3
SUNDAY:  

Val Viola 

Difficulty S1/S2  —  

Lach Palu Wild Toru 

Difficulty S3/S4
Difficulty Legend:
S0: not very steep paths, simple turns, accessible to anyone.
S1: more challenging trails but with no slippery ground and no steps.
S2: presence of slippery sections and a few steps.
S3: mostly slippery ground, higher steps.
S4: steep and slippery terrain, demanding turns requiring trialistic techniques.
S5: usually not viable, only a few can tackle these features on saddle.