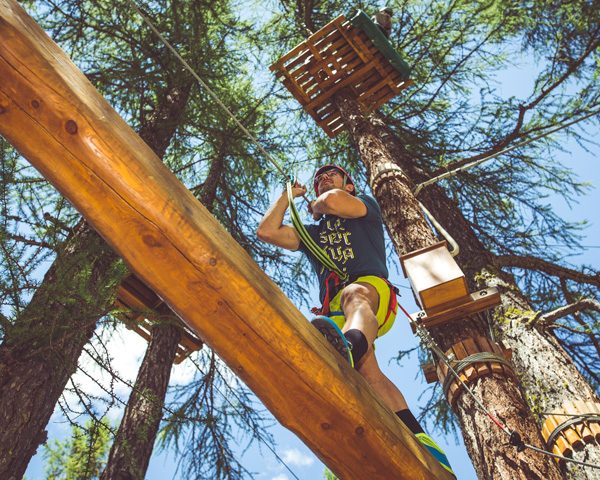 BUT HOW DO YOU CHOOSE THE ADVENTURE TRAILS IN LIVIGNO WHICH WORK FOR YOU?
Simple! Follow these directions:
Your height: to understand if the routes are within your reach, you will have to follow the directions on the map, where we ask you for your height considering an arm extended upwards. If the palm reaches a certain number of centimeters, you can have access (or not) to the paths you want to try. A bit like the amusement park rides, even in our Livigno adventure park we have these rules to facilitate the correct use of our routes;
your predisposition to adventure: do you like to always try something new and you aren't afraid of strong emotions? are you a quiet guy and want to always feel safe? Whether you reflect yourself in one or the other profile, in our adventure park you will find what's right for you. Let the park amaze you by how fun the fun will lead you beyond your limits!

Is my age an indicator? No! There are so many more fearful adults than children and so many brave children who want to experience so many new things. For this the only criterion we use is that of height, to leave everyone free to try stuff within your comfortzone!
How are routes distinguished?
We gave each the name of a color. The first four paths created expressed the difficulty level in the name: green, blue, red and black. Over time, however, by enlarging the park, we included "new shades" characterized not only by the difficulty of execution, but also by the number and type of attractions.
If you are in doubt about which option is right for you, contact the staff of our Livigno adventure park: they will guide you in the best choice!