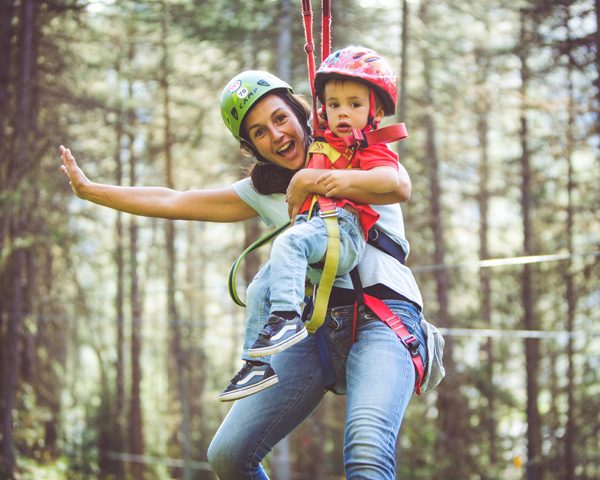 FOR CHILDREN
If you are looking for a children's adventure park in Valtellina or in Lombardy, the Larix Park in Livigno is just what you need!
With a great variety of routes and ad fun areas, it is the right offer for families, who can find alternatives for children of all ages.
The little ones can have fun in the Yepi area, a playground on the ground where they can discover the natural elements through small wooden walkways, rope swings to observe the woods from the bottom up, Indian wooden tents and much more!
The bravest can try the pulley of the fucsia path, accessible already since the two years,
to become familiar with the harness and the carabiners.
Growing up, then, there is access the first paths of the park: to know the access criteria to these, refer to the routes' page.
USEFUL TIPS FOR CHILDREN FROM 2 YEARS OLD
IN LARIX PARK
At what age can the Larix Park children's areas be accessed?
How should they dress? How can I tell if they are ready?
Parents of young children often ask themselves many questions about the possibility or otherwise of having their children
do special activities and the questions are more or less always the same.
In our long experience we can only tell you that there is no fixed rule that applies to everyone and that each child has a personal predisposition to adventure (just like for adults).
In the Yepi area of the park all the areas are on the ground and easily accessible: let the children fill their shoes with earth playing in the sandpit, or to hear the sound of a stream along the rope bridge.
There is not one thing that does not let them discover the magic and beauty of nature.
The fucsia path instead requires a bit of courage, having to harness the child to make him walk the rope with a pulley.
What we can tell you about this attraction, is that once the ice is broken, once the fear of the first lap is taken away,
your children will no longer want to stop and see them having so much fun will be worth having pushed them to try
and face their fears.