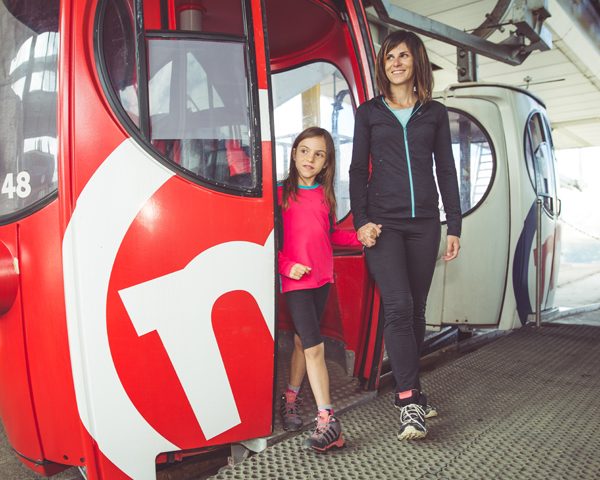 IN ALTITUDE WITH THE GONDOLA
Among all summer activities in Livigno a ride with the gondola is a MUST!
In less than 10 minutes you can go from the center of the village up to 2300m:
the view over Livigno is breathtaking!
Leave your car in the wide parking area at the bottom of our lift or reach us with the free bus service (bus stop Mottolino), and purchase your passes at the ticket office or directly online.
Once you get to the top take al look at the panorama or enjoy on of the easy trails.
If you move during lunch time, stop at M'Eating Point Mountain Hut for a tasty break!
Some important information to ride the gondola
Is the gondola exclusive for bikers?
No, it isn't! The gondola is accessible even to pedestrian wanting to take a walk.

Is it an accessible experience?
Of course! The lift is easy to access either for kids and for adults.

Can I take my dog with me?
Yes! At Mottolino dogs are welcome!

Can I purchase my ticket in advance?
On our shop online you can find all kind of tickets needed to use the lift. You'll have to simply pick it up at our ticket office.

What are lifts operating hours?
Gondola is open every day from 9am to 4.45pm

What kind of tickets can I purchase?
For a tailored experience you can get different kind of tickets. Choose among a return ticket, if you want to get to the top, have a look at the view and come down, or include lunch, as well, for a tasty break. If you want to walk to the top, you can get a way down ticket or, on the contrary, ride up with the gondola and walk to the village,
If you come with your family, you can find some solutions for you as well.
Discover all tarifs here.