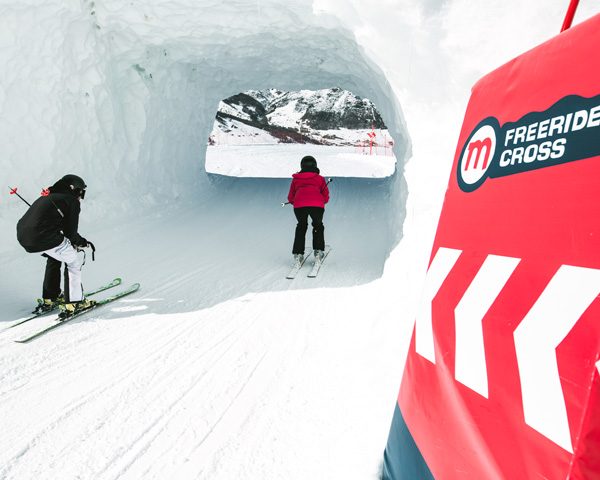 FREERIDE CROSS
Challenge your friends to a fun route punctuated with parabolic turns, undulating sections and fun boxes!
Freeride Cross is a novel concept born in the Mottolino Ski Area in the 2015/16 season with a view to offering a one-of-a-kind descent in the Livigno ski area, a high-thrill experience combining two different ski experiences, freeride and ski cross! For off-piste skiing you must be able to handle sudden changes in terrain while ski cross, a freestyle discipline, consists of highly challenging routes which test your physical fitness to the full. Our innovative Fun Area combines these two in a route which follows the natural features of the terrain, with all its many irregularities, and features a sequence of parabolic turns, undulating sections, side jumps and fun boxes!
FUN FOR EVERYONE
It is suitable for everyone, from beginners to the most expert skiers as you can simply ski past the more challenging obstacles to avoid them. The Freeride cross route is inside the Snowpark, alongside the Trepalle 2 slope and its opening hours are the same as the park's, from 9 am to 4.30 pm. Have a look at the video below to get a feel for Italy's first Freeride Cross route!
Take a look at the video below and ... get ready for the new fun-filled Mottolino tour!