Writing about Mottolino Freestyle #TheTeam means writing with a heart about people who, thanks to their sincerity, can be loved and can involve all of those working with them.
Our adventure towards the goals we have set continues with the boys who are craving to become professional freestylers: the road is neither easy nor common, but it's always exciting, especially because it makes us grow day by day.
From the date of the presentation of the team a few things have changed due to Yuri Silvestri and Ema Galli's dropout and Luca Minigher's admission.
But everything happens for a very specific reason and the whole is helping us to continue along the journey being even more determined and resolute.
After the tough and demanding athletic training in summer and fall, we could finally ski at our homeplace: Mottolino ski area in ​​Livigno.
Unfortunately the anomalous conditions of this early winter have not yet allowed the park opening, but since the very first days in December the obstacles placed allowed us a great training start and, above all, being in the snow was positive motivation. All the boys were eager to take on the slopes all the knowledge learnt from over and over tryouts on dry land.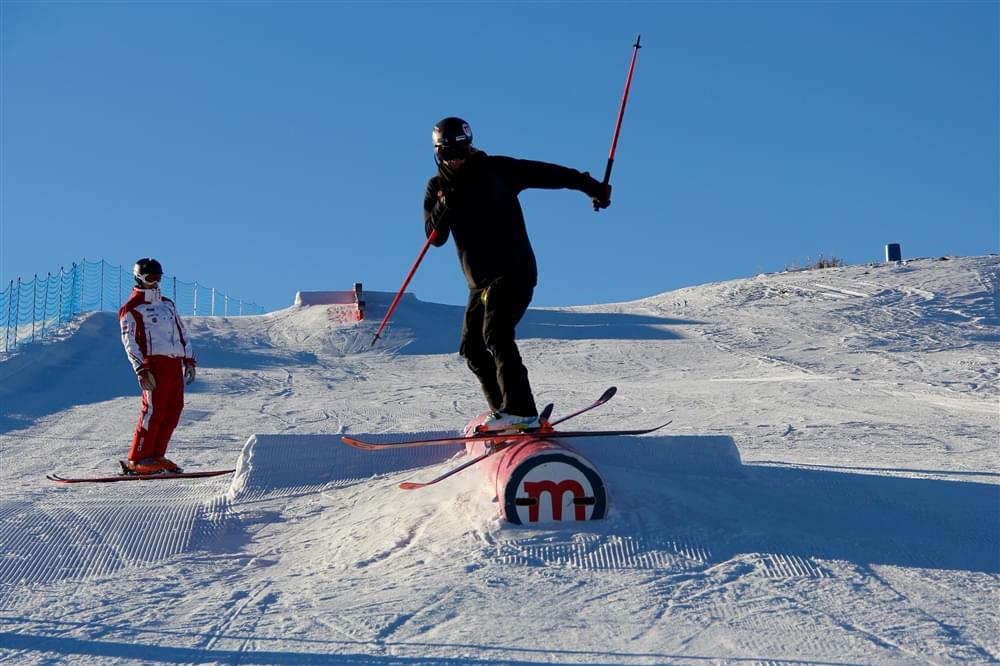 "We are working on some basic approach to rail that we were missing and that surely will help us improve and expand our repertoire" says Mattia the coach "despite conditions affected by the lack of snow and mild temperatures, we are making the most out of what Mottolino has managed to place, while having fun and developing very useful work".
To diversify the training and approach jumps, the weekend before Christmas Ian, Luca and Tobia, together with Dimitri, went to Laax.
"They've been super positive three-days: we trained hard, both in the snowpark and in the Freestyle Academy, benefiting particularly from the structures that we, in Livigno, right now don't yet have. Having the Italian national team training there as well allowed us to have a direct comparison with the athletes we take as a point of reference" says Dimitri the athletic trainer, who spent with the Mottolino Freestyle #TheTeam boys the time in Laax.
Now the team will continue training on skis in Livigno during Christmas days, adding some athletic and acrobatics training sessions as well and a few meetings with their actitude trainer.
We set off in the winter with great motivation, desire to do well and commit ourselves being even more aware that in order to achieve our goals we need to work hard. Working together with the same target in a peaceful environment is proving to be stimulating for all the boys.
Maybe you too, young freestyler, can yearn for joining Mottolino Freestyle #TheTeam… stay tuned: interesting news are coming soon!