The world's best skiers were joined by elite snowboarders for the first time at the Suzuki Nine Knights Big Air contest at Mottolino Fun Mountain in Livigno, Italy on the of 10th of April 2015. With perfect blue bird conditions, the athletes launched themselves off the 11m high jump, flying 35m before landing their tricks, much to the delight the cheering crowd and judges. The gigantic snow castle on Mottolino Fun
Mountain saw Sweden's Sven Thorgren take the victory over the other snowboarders, and standing at the top of the all-Swiss ski podium, was 18 year-old Swiss skier Luca Schuler. 
FREESKI
Of the many skiers competing, it was a 100% Swiss podium with Luca Schuler, Kai Mahler, and Fabian Bösch taking first, second, and third respectively. Luca's mastery of big tricks combined with his huge amplitude pushed his score to the top. His tricksincluded: a triple cork 1080 safety, double cork bio 1260 safety, and a bio 720 Bow & Arrow. Stoked on his performance, Luca explained, "It feels fantastic to win. Last year I was second and this year I'm first, so it really can't be better. The jump was perfect and I got to try two doubles… man, it was awesome."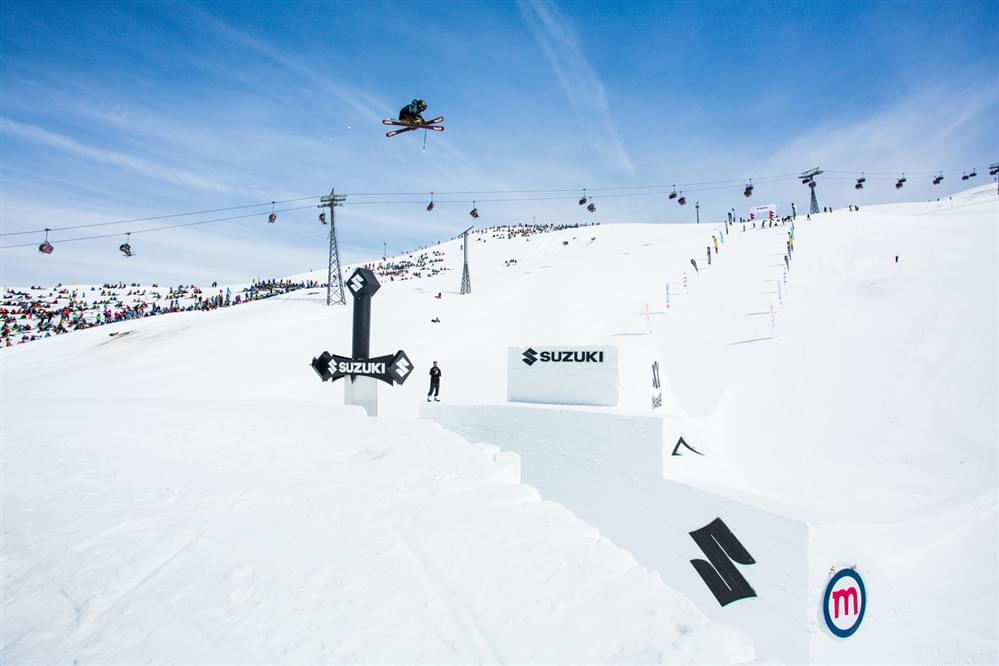 SNOWBOARD
Snowboarders went huge during the entire contest, confirming their rightful place in the line-up. Continuing his big air domination from the days before, Swede Sven Thorgren stomped massive technical tricks with style, including a cab 1260 roastbeef shifty shifty, backside rodeo 540 nosegrab, and a frontside triple cork 1440, a personal first. Looking back on his win, Sven was stoked: "It feels so crazy to win today. It was also my first time landing my frontside triple and I'm just super pumped." In second was fellow Swede, Tor Lundström with Belgian rider Seppe Smits rounding out the podium, who landed a clean Backside Triple 1440 nose grab, a personal first.