Thing went this way: last week the main weather forecast websites were literally overwhelmed by all the snow lovers who can't wait to hit the slopes again. At 12.00 on Sunday we feared for a never ending rainfall, we all feared that the forecasts were wrong, but then… all we had to do was wait for a few hours to discover that rain was turning into snow and the town was slowly turning white.
The first snowfall of the year in Livigno
To be honest the first snow in Livigno arrived a while ago, to be exact on Septmber 2nd, when during the weekend, the Little Tibet woke up to find the town covered with snow. Clearly it did not last long since the tempratures were still pretty high, in fact it was all green again by night.
The snowfall of last weekend could actually be considered the first real snowfall of this winter, during the night between Sunday and Monday over 30 cm of snow fell in the town and more than 50 on the peaks, and 10 more fell during the night after. Luckily the temperatures are helping us, for example this night the temperature was well below -10°, which allows us to keep producing artificial snow which will be needed to cover the area where it does not snow as much.
Snow cats already operating
Our pisten bully drivers are not wasting time, on Monday morning Davide, Filippo and Marco were already working to press the first layer of snow, the process is needed to press the snow on the ground and make sure it does not go away with the wind and also to create a solid base for the next snowfall. This process is really important since the November snowfalls are the ones creating the base for the whole season and making sure to have a proper base from the very beginning is fundamental. The work of the Pisten Bully drivers is now at its best and over the next few day all the drivers will get on their cats which will then be used every night for the rest of the season to guarantee perfect slopes every day.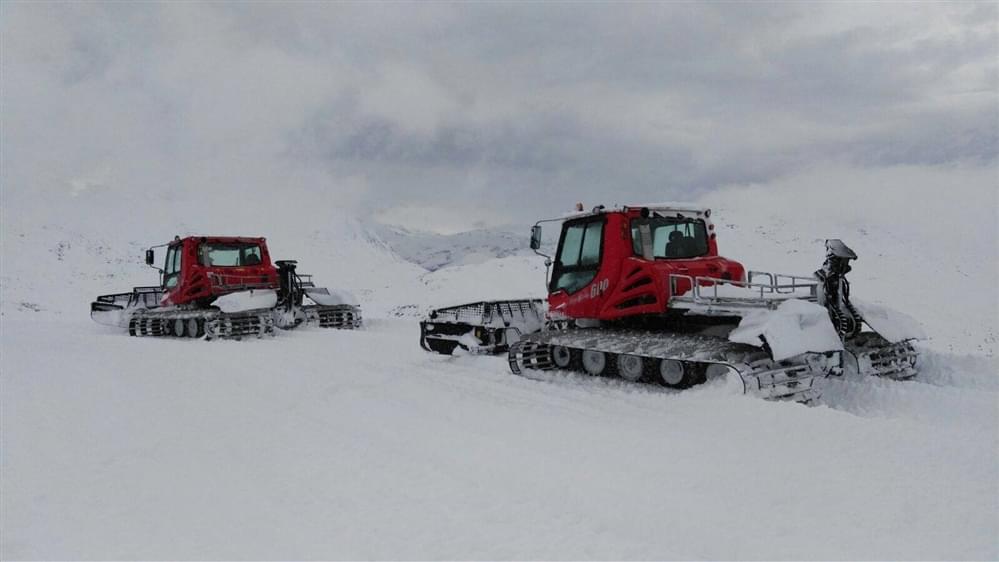 The opening of the winter season
Let's cross our fingers… everything seems to be good and working to guarantee a perfect beginning of the season. In these upcoming 20 days we will keep producing artificial snow on the slopes, fun areas and in the snowpark, hoping for Mother Nature to support us in this phase, in the mean time Mottolino's organizational machine is working hard to finsh the maintenance of the lifts, to prepair the mountain huts and to prepair a new season full of fun!