After a busy morning of skiing or snowboarding on the slopes at Mottolino, do you feel like enjoying a super high quality burger? Look for Snow Food in our ski area, the snowgroomer with built-in kitchen, and get enchanted by the hamburger of your dreams!
Three cuts of  different high quality meat mixed with a little bacon to flavor and soften further, are the basis of a super burger. but Gazza, catering director at Mottolino, doesn't want to reveal more. "It's hard to describe it… but the tip is: taste it!" these are his words, when we ask him to tell us more about the recipe that remains a secret, only shared with a few.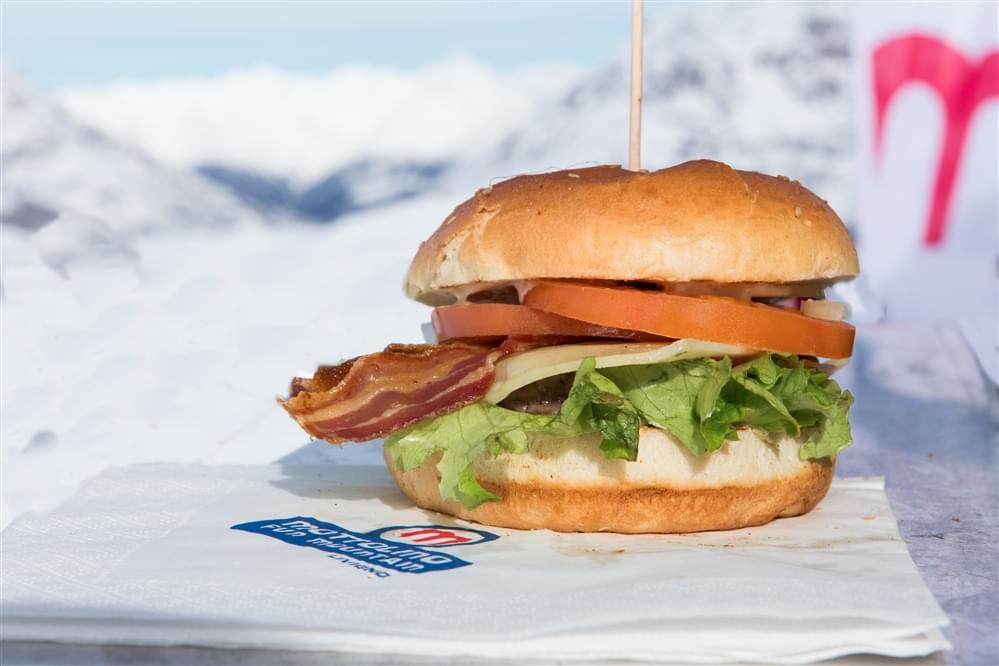 Rounding out the burger, the classic ingredients: bread, a slice of crispy bacon, lettuce and tomato… did we make you drool? Manuel, the snowgroomer cook, and Matteo, his co-worker, are waiting for you every day… in the best place of the Mottolino ski area. Snow Food, in fact, is a travelling kitchen that, every day, chooses the most strategic location according to weather conditions and temperatures.
Breathtaking views, spectacular locations, good music, lounge area and a little party feel are completing the Snow Food offer, the new travelling catering service by Mottolino.
Hard not to spot the snowgroomer if you come to Mottolino skiing: an orange stain laid on white snow will surely attract attention. Veuve Cliquot, in fact, is a partner in the initiative… you will then appreciate its fizzy bubbles together with our fantastic burgers. What else? Sipp a Schenatti grappa, the unmistakable taste from Valtellina.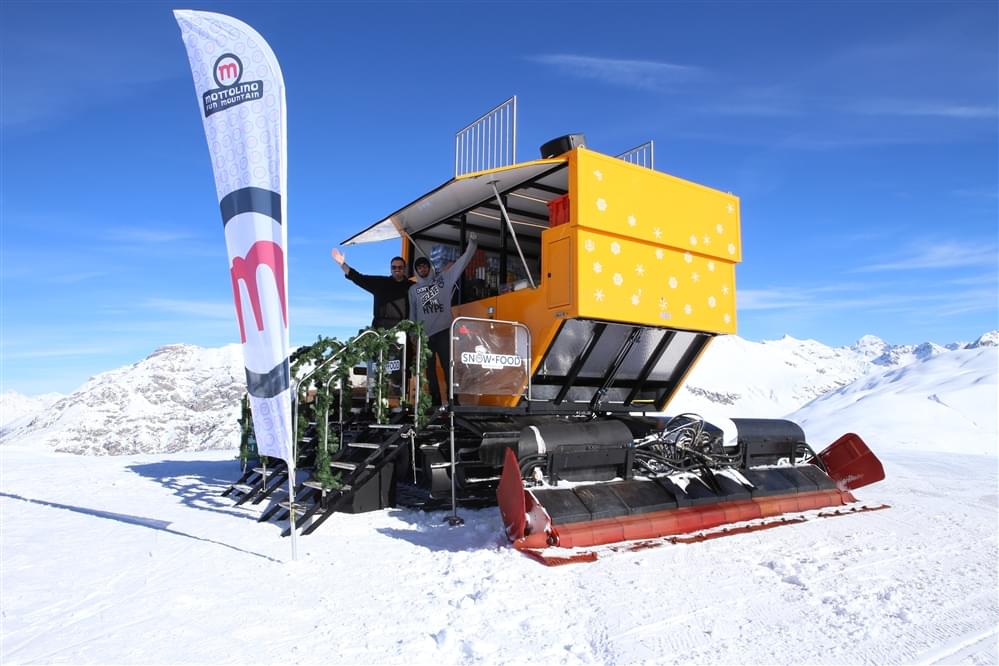 But that's not all: every day you can also choose the dish of the day, and on Sundays the date is with the only Michelin-starred chef in Livigno, Mattias Peri, while on Tuesdays you can enjoy the cuisine by the chefs of the Slow Cooking association.
What are you waiting for? Call us now +39 366 6866727 to book your break at the Snow Food.