Until a few years ago, before I started working at Mottolino, this lift company in Livigno seemed to me as standing to the opposite extremes when shifting from winter months to the spring and autumn ones: going from the myriad of skiers on the slopes, the great number of cars in the parkings and that of the many people who enjoyed the mountain huts, to a land that in the months of April, May, October and November it really seemed being off. But I've just said "it seemed"! Now let me explain to you why.
Try to come to Livigno on an "off season" day and take a look at the Mottolino area: lifts are not working (there are not even chairs hanging from the ropes), parking spaces are all empty and the mountain is completely void of life. There are some places, thou, that seen up closely are more alive than in any other month of the year (or almost) thanks to the several Mottolino teams working on winter season preparation.
Let's start from the lifts which, as just said, might appear to you as dead: well, you should know it is not so indeed! From the middle of May Fabio Rini, lifts' team manager at Mottolino, puts together different crew of workers made of usually 3/4  people each and sends them out onto the various lifts for maintenance (a job which often turn out being a real puzzle). Just imagine: this kind of work does not consist exclusively on a general system check (which is the starting point), but most of the times every lift is disassembled fully to replace its worn out parts. This procedure is to be completed by mid-November when the various crew are dedicated to the preparation of the ski area and the securing of the slopes heading to winter.
Let's now keep on talking about lifts and slopes, thou moving on to the snowmaking team who, in summer months, is devoted entirely to the maintenance of the artificial snowmaking systems, with its guns and cannons to be prepared for the month of October, waiting for temperatures to drop in order to start producing artificial snow.
Talking about snowgroomer drivers, they also have a lot of work to do! In warmer seasons in fact, only 3 people are in charge of completely disassemble, repair and reassemble the 13 snowgroomers, just like explained a few weeks ago in the blog article written by Filippo, snowgroomers' team manager.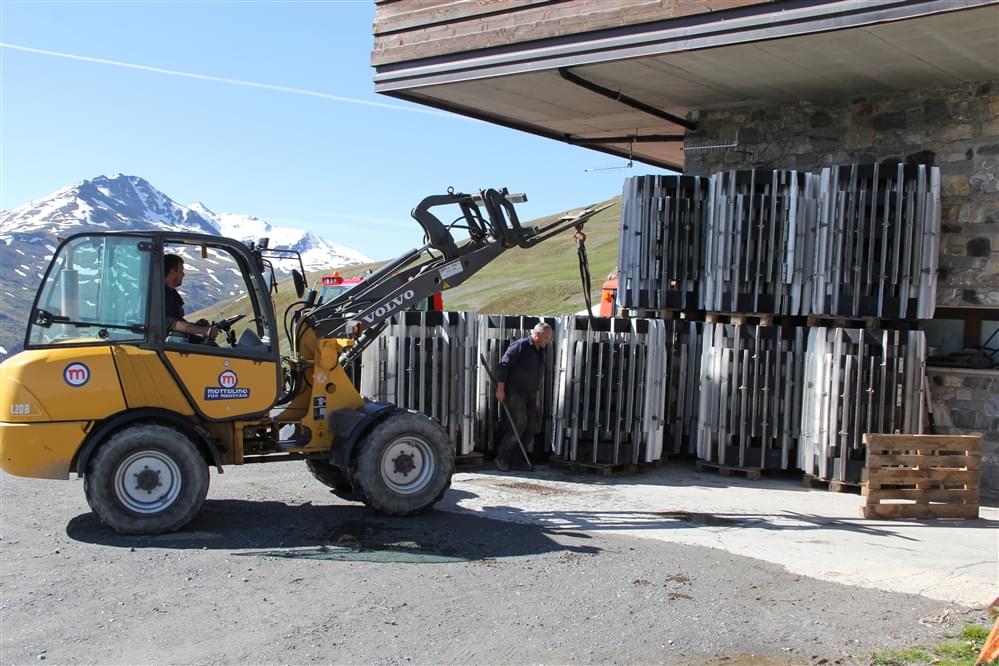 Let's now move into the mountain huts, especially M'Eating Point which remains operating virtually 365 days a year. In spring and autumn in fact, Gazza (the shelter's director) dedicates to making orders and creating the new menus, while Paco (the shelter's cook) everyday prepares lunch for workers and snowgroomers who are at work.
And to end this article here we go with the administrative office staff, from the marketing team busy with winter programming, event planning and new projects developing, to the administrative staff which is busy with contracting new staff members and recruiting new resources, together with undergoing business negotiations in the various fields of the ski area.
Well, after reading this article, the next time you will come to Livigno during spring or autumn, take a closer look at Mottolino: I'm sure you'll notice it is not as "off" as it seemed 😉